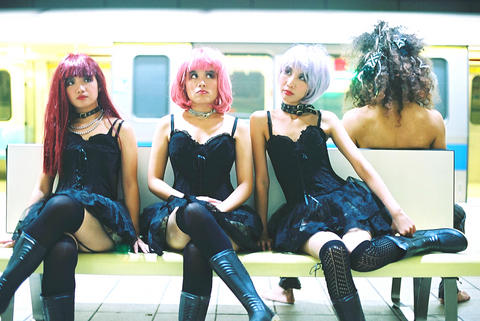 Against Again Troupe's latest work is a rock 'n' roll musical about fear and hatred.
PHOTO: COURTESY OF AGAINST AGAIN TROUPE
By Ho Yi
STAFF REPORTER
Friday, Dec 14, 2007, Page 14, Taipei Times
Against Again Troupe (再拒劇團) was founded five years ago by a group of young, aspiring theater workers. Its members have distinguished themselves from typical socially and politically apathetic 20-somethings by devoting themselves to exposing society's ills.

Turning a sober gaze on the marginalized, the company's latest work, Silent Left Hand (沉默的左手), is a rock 'n' roll musical about Southeast Asian immigrants in Taiwan. The show also features members of electronica collective KbN (凱比鳥) and alt-rock band the Blue Velvets (藍絲絨).

The story begins when the little girl in Hans Christian Andersen's The Little Match Girl dies and sets out on an odyssey in a netherworld made up of people's fear. A series of encounters with grotesque characters such as a witch and a man-dog ensues, which the musicals' creators link to events such as the inhuman treatment of Thai workers, who rioted in Gangshan Township (岡山) two years ago.

Each encounter examines explicitly what led to the girl's demise: hatred, ignorance, inhuman treatment and discrimination. Silent Left Hand looks at both the silenced and those who choose to turn their backs on the miseries of others.

To the troupe, the work has been a process of self-examination, rather than an attempt to speak for those on the fringes of society.

"We use what is happening in Taiwan to address universal issues," said Huang Ting-wei (黃亭瑋), who co-directed the play with Huang Si-nung (黃思農). "The play doesn't attempt to give an account of the discrimination and injustice done to new immigrants, but tries to offer insight into how our fear increases in the face of 'the Other' and how fear leads to violence."

The play's music is performed by a live band made up of Jerry Fang (方宜正) of KbN, Chiang Tao (蔣韜) of the Blue Velvets and singer and songwriter Wang Yu-chun (王愉鈞), a Taipei Poetry Festival (台北詩歌節) winner. They play an intriguing mix of electronic, post-rock and folk sounds using an erhu, electric and acoustic guitars, bass and turntables.

Performance notes:

What: Silent Left Hand (沉默的左手)

When: Thursday to Dec. 23 at 7:30pm

Where: Xinyi Public Assembly Hall (信義公民會館), 50 Songqin Rd, Taipei City

(台北市松勤街50號)

Ticket: NT$400, available through NTCH ticket outlets or at the door